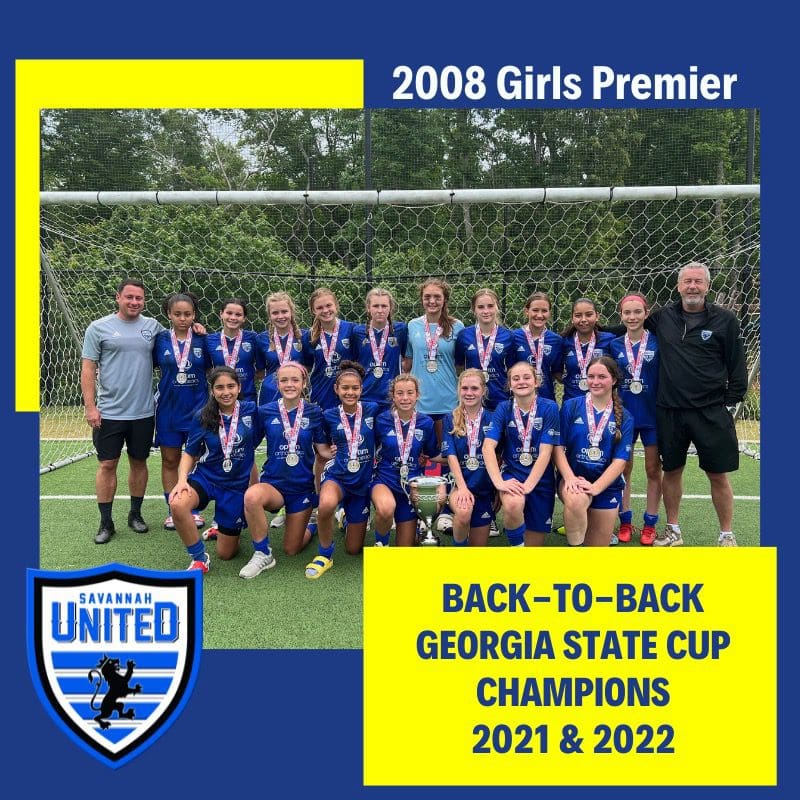 18 May

2008 Girls Premier Win Back-to-Back Georgia State Cup

Savannah United 2008 Girls Win Back-to-Back Georgia State Cup
The Savannah United 2008 Girls Premier team won the US Youth Soccer U14 Girls Georgia State Cup title on May 14, 2022. The team competed in the Finals in Peachtree City, GA to secure the championship. Coached by Savannah United directors, Gary Wright and Jeff Storey-Pitts, this 2008 Girls Premier team won back-to-back championships, making them the first team to do so in the Savannah area.
"I am so proud of this group of girls who have stuck together and played as a team; most of them playing together from their early Academy (U8) days and showing great progress & growth both as a team and as individuals," said Coach Jeff Storey-Pitts.  "We are excited to see what the future holds for this team and how they can compete on the regional and even national level."
Team captain, Anna Shoemate had this to say about their win, "I am super proud of this team. We went from losing 3-0 and 4-0 to most Atlanta teams a few years back to now being the first ever Savannah United team to be back-to-back State Cup Champions! We have been constantly pushing ourselves and each other at practice while also being able to have fun with each other."
The Georgia State Cup is a highly competitive competition. This tournament provides an opportunity for players to be scouted and evaluated as well as provides a direct pathway for winning teams to participate in the Southern Regional Championship and potentially the National Championship.
The team will represent Savannah United and the State of Georgia at the Southern Regional Championship taking place in Murphfreesboro, TN in June. This is Savannah United's fourth team to make it to Regionals in the last two years.
"It's been a pleasure coaching these young ladies over the past couple of years," states Coach Gary Wright. "They deserve all the success they get as their dedication, commitment and their enthusiasm is second to none. The pleasing thing to see from a coaching perspective over the years is not only is this group very talented, they have a lot of fun along the way also!"
2008 Girls Premier Team Roster
Head Coach: Gary Wright & Jeff Storey-Pitts
Team Manager: Alisha Shoemate
Reese Bailey
Jackie Bessman
Evelyn Bowen
Madison Bueno
Emma Dresback
Jordan Gunn
Molly Hildebrandt
Mary Grace Morris
Kamila Peña
Amelia Reci
Allyson Rosas
Anna Shoemate
Marley Sigmon
Hailey Smith
Iris Turner
Abby Tvrdy
Malayla Wright