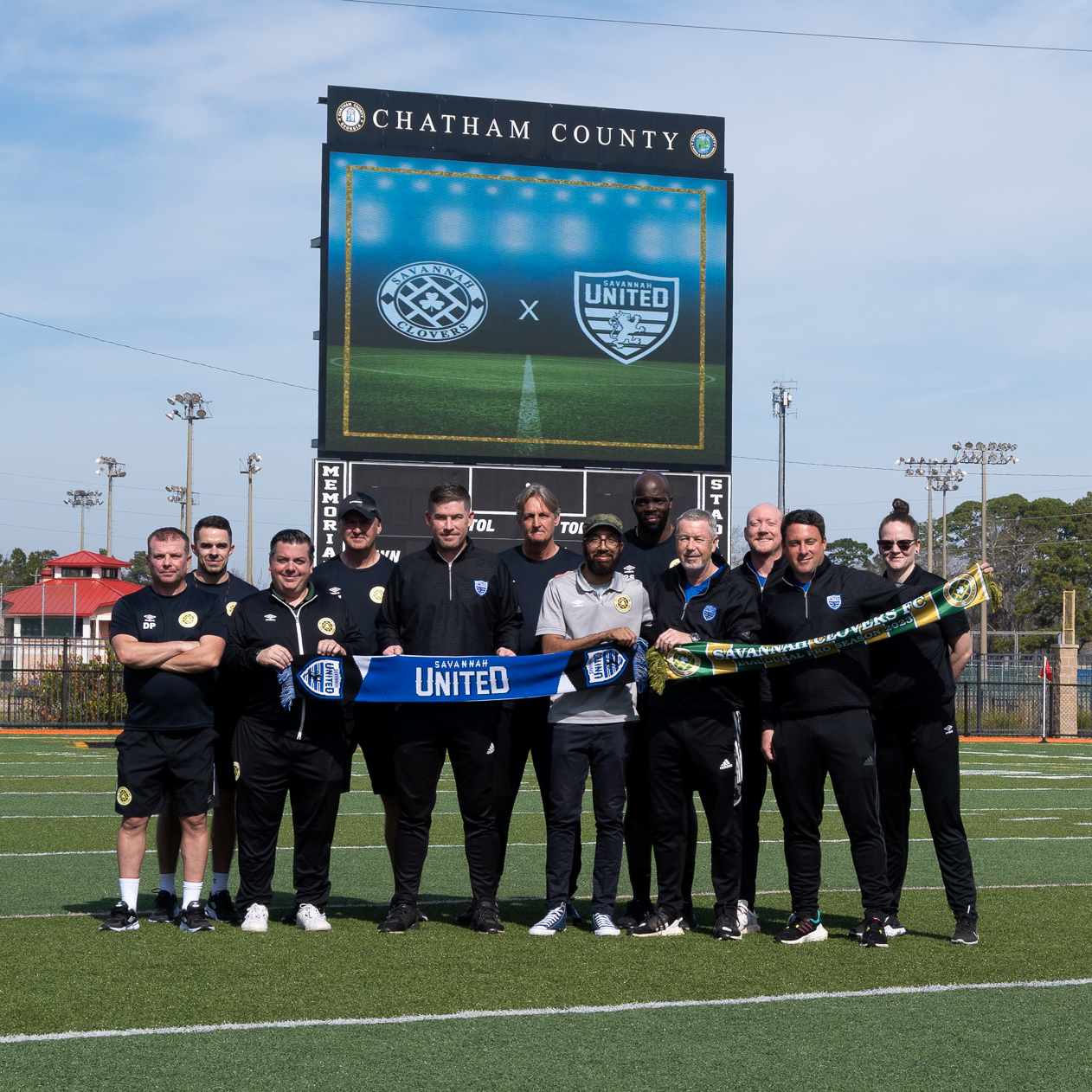 22 Feb

Savannah Clovers FC & Savannah United Announce a Strategic Partnership

Both soccer organizations join forces to provide opportunities for local players on and off the field.

Savannah Clovers Football Club and Savannah United have announced a strategic partnership that will support male and female players in the local area. This agreement will see the Clovers professional soccer organization enter into a mutually-beneficial relationship with Savannah United's regionally-recognized Select, Academy and Recreation playing platforms. Both parties will work together to create a defined pathway for players who strive to play professional soccer.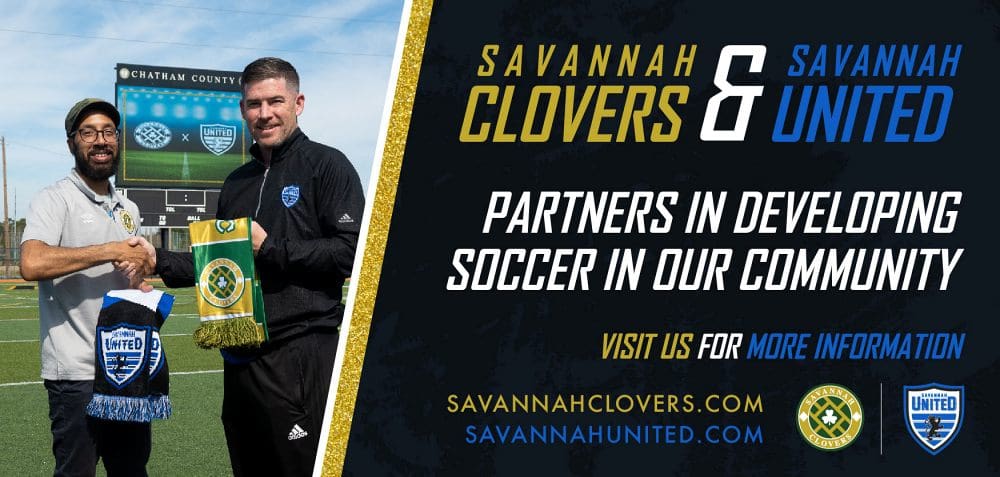 The partnership will include scrimmages, training opportunities, workshops and development programs for Savannah United coaches and players. Additionally, this unique access to the professional club will be created through match day experiences, special events, attendance at training sessions, ticket offers and internship opportunities.
"Savannah Clovers FC and Savannah United are committed to advancing soccer in our region," said Savannah United Executive Director Gary Wright. "Savannah Clovers' vision to bring a team into a national, professional league is an unprecedented development for Savannah, and we are pleased to put our respective expertise together to provide special opportunities for our players." Wright continued, "we are very excited to provide a pathway for our Boys and Girls programs, and to give the players at Savannah United every opportunity to play professional soccer."
"Our vision for the Savannah Clovers Football Club includes a roster anchored with local players who understand our style of play and the values of our organization, and this partnership helps to lay this groundwork," said Jef Thiffault, Clovers Chief Operating Officer. "Over the past nine months, we have been building this relationship with their management team, and we are honored for the opportunity to add to Savannah United's over thirty-year commitment to serving the area through our professional platform."
Savannah Clovers FC begin their first season as a professional club in April, 2023 in the National Independent Soccer Association (NISA).
About Savannah United
"The Club was first established in 1991 as Coastal Georgia Soccer Association. In 2013 after a merger with Savannah Celtic, for the advancement of youth soccer in the area, the club was rebranded and name changed to Savannah United. With around 2,000 players annually, and its very experienced professional staff,Savannah United is the premier,leading and most successful youth soccer club in Savannah, Georgia and the surrounding area.
Having produced the likes of Morgan Brian (USWNT player), Indy Vassilev (English Premier league and MLS Player) and countless players to go to college on soccer scholarships over the years, Savannah United strives to provide the best soccer experience for the player and their families. The club provides programs for all skill levels that include Recreation, Academy to the Elite level that allows all players to play and participate in the beautiful game.
About Savannah Clovers Football Club
Savannah Clovers Football Club is a Community-based soccer team founded on June 23, 2016 as a local amateur club. The team played in the United Premier Soccer League for five seasons and participated in both the 2020 and 2021 editions of the NISA Independent Cup. The club's mission is to bring the highest levels of soccer to the Hostess City, while engaging players, fans and local businesses to serve our community. In 2022 Savannah Clovers received a major financial investment resulting in the club turning professional and gaining membership into NISA (The National Independent Soccer League sanctioned as a National Division Three League by the United States Soccer Federation). Savannah Clovers FC will begin their inaugural season in NISA as the city's first professional outdoor soccer season in April of 2023.
About NISA
The National Independent Soccer Association was founded in 2017 with a mission to bring professional soccer to every city in the United States. A pro league member of U.S. Soccer, NISA focuses on a model based on meritocracy, independent clubs controlling their own league, clubs owning their intellectual property, all without the barrier of territorial rights. A member of the U.S. Soccer Federation, NISA also runs the mid-summer Independent Cup, open to independent professional and amateur clubs alike, and NISA Nation, an incubator league for amateur clubs interested in going pro.
For the latest Savannah Clovers FC updates, visit the official Savannah Clovers social pages on Facebook, Twitter and Instagram or visit https://www.savannahclovers.com.
Learn more about Savannah United by visiting https://www.savannahunited.com or social pages on Facebook, Twitter and Instagram.